Dr. Kiril Kirilov dentist & dental implantologist

Dr.Kiril Georgiev Kirilov is a dentist by profession.In 1994 he graduated the Faulty of Stomatology at the Medical Academy in Sofia,Bulgaria,during the same year he started practicing dentistry at 21th Dental Polyclinic, later on moved to 20th Dental Polyclinic,Sofia until 1997.He established his first private practice in 1997 at blvd. "Vitosha" and blvd. "Patriarh Evtimii", Sofia where he worked till 2003.In the same year he has established his present surgery at blvd."Acad. Iv. Ev Geshov" 46 where he has been currently working.
In 2007 participated in a Special Course including Hands-on Training on Dental Implantology with PITT-EASY and Bicortical Implant Systems and Prosthetic Solutions including Bone Augmentation and Membrane Technique at the Education Center in Bremen, Germany. In 2008 attended a two day Training in Oral Implantology "Innovative Solutions for the Implantologist" including Hands-on and Live surgery at the CDE-Center of Education, Munich-Germany.
D-r Kiril Kirilov
CERTIFICATES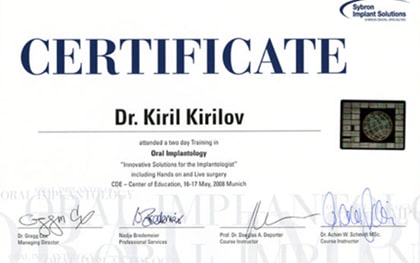 Author of numerous publications, case reports and a monograph.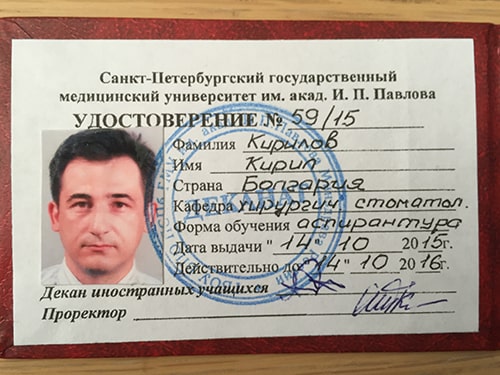 - Registered with Bulgarian Dental Association
- Registered with GDC-UK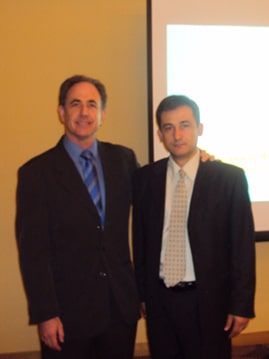 Assistant Prof. Robert A. Horowitz Dr. Kiril G.Kirilov
Europen Leaders Forum, London 06.10.2010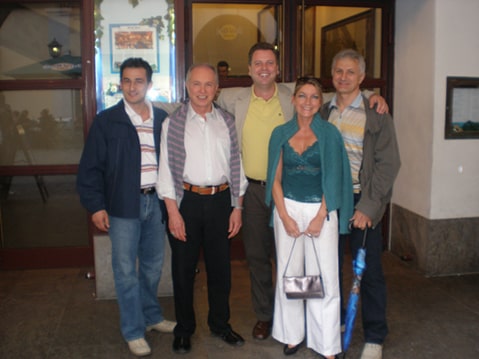 Dr. Kiril G.Kirilov, Prof. Dougles Deporter, Dr.Ferentz Rener,
Miss Nadiya Bredemeer , Dr. Nikolay Siromolot
Inovative Solutions for the Implantologist
Munich 17.05.2008